Sweet Burritos with Creamy Sheese
Sweet Burritos with Creamy Sheese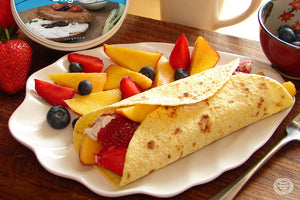 Prep. time 20-25 minutes | Preheat 180°C | 6 portions

Give your Christmas dinner a Mexican twist with these sweet vegan burritos. Containing only dairy free ingredients, they can be enjoyed as part of most specialist diets and make the most of our dairy free Creamy Sheese to deliver a little sweet treat which make for a perfect light dessert after your dinner.
Ingredients
255g tub Original Creamy Sheese
6 corn Tortillas (also known as wraps)
1 large punnet (approx 1/2 kilo) of Strawberries
8 nectarines (washed)
1 small punnet (approx 2 cups) of Blueberries (washed)
250ml soya cream
The pulp and seeds of 3 passion fruit
3 heaped tablespoons castor sugar
1 heaped teaspoon agar-agar powder

Cooking Method
Wrap stacked tortillas in aluminium foil and heat in pre-heated oven for 15 minutes or until hot.
To microwave, wrap a stack of tortillas lightly in kitchen roll and warm on high for 6 to 7 seconds per tortilla.
Wash fruit, drain, then dry with kitchen roll (or air dry).
Cut strawberries in halves or quarters, depending on their size. Cut nectarines in half – remove the stone, then cut into strips (see picture). Set aside half of your fruit as a fruit salad to accompany your tortillas.
Place the rest of the fruit into a mixing bowl. Add 6-8 tablespoons of Original Creamy Sheese to the fruit, and gently mix until the fruits bind together.
Remove tortillas from oven. Using tortillas one at a time (keep tortillas covered as you work with them), generously spread Original Creamy Sheese onto each tortilla. Spoon the fruit and Creamy Sheese mixture in a line along the middle of the tortilla. Then fold tortillas and serve with remaining fruit salad.
++

Original Recipe: 
https://www.buteisland.com/recipe/sweet-burritos-with-original-creamy-sheese/